Welcome to
Brookvale Doors and Screens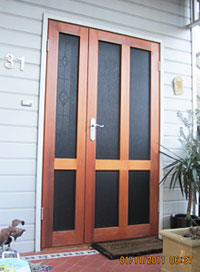 We make doors! Traditional, contemporary and modern doors. Solid timber doors, flyscreen, kitchen cupboard doors, cabinet doors, garden doors, shed doors and external doors just like those beautiful old ones you might remember from the old beach or farm houses that were not only functional but enhanced the style of the houses beautifully. We also make swing seats.
Our products are individually handmade to your specific requirements with both form and function in mind, to not only keep out insects and other pests but also to enhance the entry ways to your home. They're made to your specifications, using quality craftsmanship from our family owned and operated business based in the Southern Tablelands of NSW. Orders can be sent to anywhere within Australia.
With over thirty years' experience, let us transform the look of your home or office. Contact us now!
Some of our other products include: